Project Green Vision
Change is unavoidable and is a law of nature
Read More...
Eco Tourism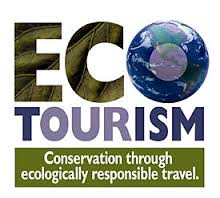 Ecotourism is a form of tourism that involves visiting natural areas—in the remote wilderness or rural environments. ) Ecotourism is "Responsible travel to natural areas that conserves the environment and improves the well-being of local people." (TIES, 1990). Martha Honey, expands on the TIES definition by describing the seven characteristics of ecotourism, which are: Involves travel to natural destinations Minimizes impact Builds environmental awareness Provides direct financial benefits conservation Provides financial benefits and empowerment for local people Respects local culture Supports human rights and democratic movementssuch as: conservation of biological diversity and cultural diversity through ecosystem protection promotion of sustainable use of biodiversity, by providing jobs to local populations sharing of socio-economic benefits with local communities and indigenous peoples by having their informed consent and participation in the management of ecotourism enterprises tourism to unspoiled natural resources, (ESP) explains "Ecotourism is a travel activity that ensures direct financial support to local people where tourism activities are being generated and enjoyed.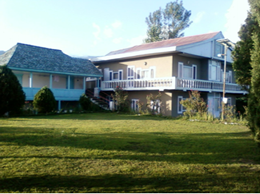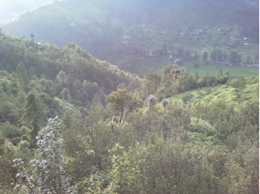 It teaches travelers to respect local cultures of destinations where travelers are visiting. It supports small stakeholders to ensure that money must not go out from the local economies. It discourage mass tourism, mass constructions of hotels, tourism resorts and mass activities in fragile areas". Ecotourism must above all sensitize people to the beauty and the fragility of nature.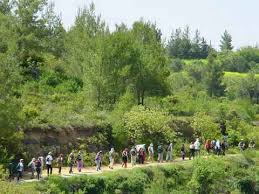 The purpose of eco tourism may be to educate the traveler, to provide funds for ecological conservation, to directly benefit the economic development and political empowerment of local communities. ecotourism has been considered a critical endeavour by environmentalists, so that future generations may experience destinations relatively untouched by human intervention. Ecotourism is intended to offer tourists insight into the impact of human beings on the environment, and to foster a greater appreciation of our natural habitats. Therefore, in addition to evaluating environmental and cultural factors, an integral part of ecotourism is the promotion of recycling, energy efficiency, water conservation, and creation of economic opportunities for local communities
Eco tourism in Ladakh
concept of "Ecotourism" has been introduced in Ladakh by non-governmental organizations like the Snow Leopard Conservancy India Trust's Himalayan Homestays Program[2] and Women´s Alliance of Ladakh (WAL),[3] travel agencies like Zanskar Trek[4] and Ladakhi Women´s Travel Company,[5] and individuals like Helena Norberg-Hodge and Thinlas Chorol. People are being asked to reduce waste and water consumption and to use more environmental options when possible. One of these being the "Homestays", a system where tourist who are trekking in Ladakh, instead of bringing tents and supplies that often has to be carried by horses or donkeys, they stay with local families in the villages they pass. This is seen both as environmental since the pack animals can sometimes eat all the limited vegetation, and as socially responsible since it puts money directly into the local villages. EFSO believes Eco tourism as responsible tourism Environmental Education – raising awareness and appreciation in the people, both within the state and in the visitors from outside, for the diverse biodiversity, culture and unique ecological values; to care for natural heritage and alongside to create an income base for the community---an incentive for the future protection of natural assets. Responsible travel to natural areas that conserves the environment and improves the well-being of local people" [Def: The (International) Ecotourism Society 1990] Ecotourism must contain three basic elements for it to be complete:
It must provide for environmental conservation.
It must include meaningful local community participation.
It must be viable profitably to enable it to sustain itself.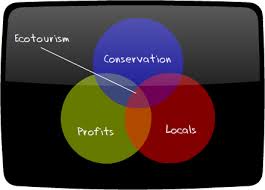 HP Eco tourism
The Indian State of Himachal Pradesh is a mostly mountainous area, neighboring Tibet and China in the East, the Indian states of Jammu and Kashmir in the north and northwest, Punjab, Haryana, Uttaranchal and Uttar Pradesh to the south. It has a geographical area of 55,673 sq. Kms. and a population of 6.1 million people and is located at altitudes ranging from 350 to 7000 meters (1050 ft. to 21000 ft.). Nestled in the Western Himalayas, it has provided refuge and abode to the Buddhist leader, the Dalai Lama and his Tibetan followers. This majestic, almost s famous for its beauty and serenity. Accordingly a new course has been charted to shift forest policy in a way that recognizes the ecological and social value of environmental services as well as its economic values. Tapping environmental services through eco-tourism offers a way to alleviate poverty and enhance livelihood options. community, and are therefore more accountable to environmental protection than multinational corporations. The lack of control, westernization, adverse impacts to the environment, loss of culture and traditions outweigh the benefits of establishing large scale ecotourism. The increased contributions of communities to locally managed ecotourism create viable economic opportunities, including high level management positions, and reduce environmental issues associated with poverty and unemployment.
Under the project Green Vision EFSO has adopted few eco friendly farm house & orchards to promote eco tourism. For any information contact us.